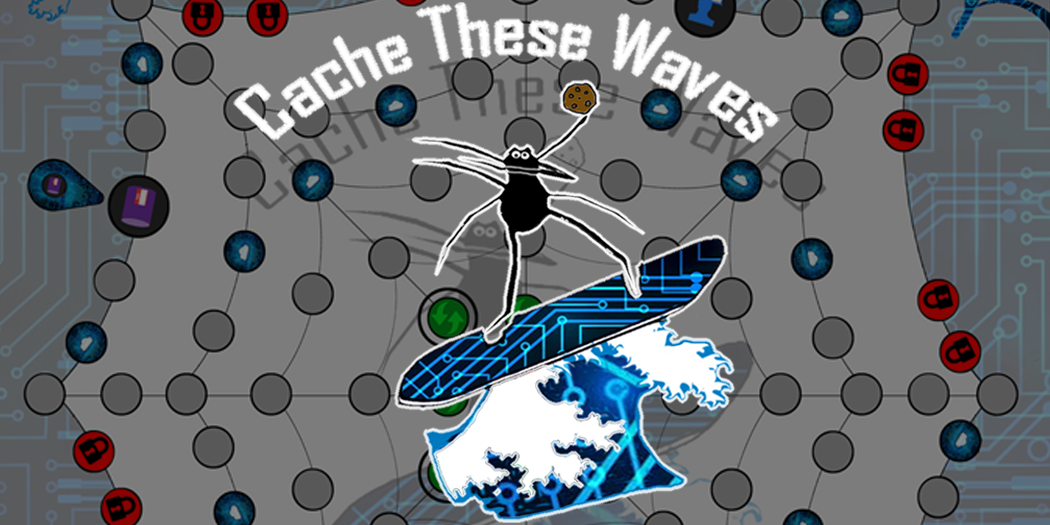 Cache These Waves
A downloadable Cache These Waves
Description
Cache These Waves is a competitive multiplayer strategy print & play game simulating the online web browsing experience and the importance of clearing your cache.
The objective of the game is for players to be the first to visit all four websites on the board and then get back to the middle to clear their cache & win.
However, players gain cookies as they traverse the board and land on websites, slowing down their movement speed on the web (ie. how many spaces they can move per turn), similar to the slowing down of computers if a computer has too many cookies and has not had its cache cleared in a while.
This mechanic requires players to find the best balance of surfing the web and going back down to Cacheius to clear their cache.

Learning Outcomes
After playing Cache These Waves, players will be able to:
Identify what cookies/cache are
Know how to clear their cache
Get into the practice of regularly clearing their cache
Why Learn Through Games?
According to Steven Isaacs article, "The Difference Between Gamification and Game-Based Learning," gamification is the process of adding game elements to a non-game situation. On the other hand, Games Based Learning is the use of games to enhance the learning experience of the student. Teachers have been using games for years in order to give students real world experience. Educause's article, 7 Things you Should Know About Game Based Learning, states that gaming can create a dynamic that can inspire learners to develop skills and competencies as they focus on the activities of the game. Games can help in learning because people are more motivated, engaged, and achieve more in games than in the real world.
In her article, Learning Through Quests and Contests, Maura Smale alludes to the following game features that facilitate learning:
Students can take new identity, with an extended commitment of self
Interactivity - the students must perform an action in order to get feedback
Allows students to learn from failure
Content can be scaffolded into well ordered problems
Students can learn by doing - they can perform prior to being completely competent at a skill
Benefits may be most pronounced with digital natives as they are used to receiving info quickly, graphics before text, prefer random access, networks, instant gratification.
Assessment measures are inherent in games, as students frequently cannot proceed to the next level unless a skill is learned
In his article, "Toward a theory of game based pedagogy," Russell Francis, points out that there is a growing consensus that educational designers and instructional technologists can stand to learn from professional game designers in terms of their educational designs for the purposes of pedagogy.

Credits
Nomon Azimi - nomonazimi.wixsite.com/home
Toyin Oteri - toyin1596.carbonmade.com
Nick Smith - nicholasmith.carbonmade.com
Install instructions
Print Instructions

Choose 1 out of the 4 zip files differentiating between printing options to download, then print out all files within the folder once.
The folder should contain the following components:
Node Card document (4 pages)
Player Card document (1-2 pages)
CTW Board document (1-4 pages)
Website Tokens document (1 page)
Annotated Board & Cards document (3 pages)
Game Instructions document (4 pages)